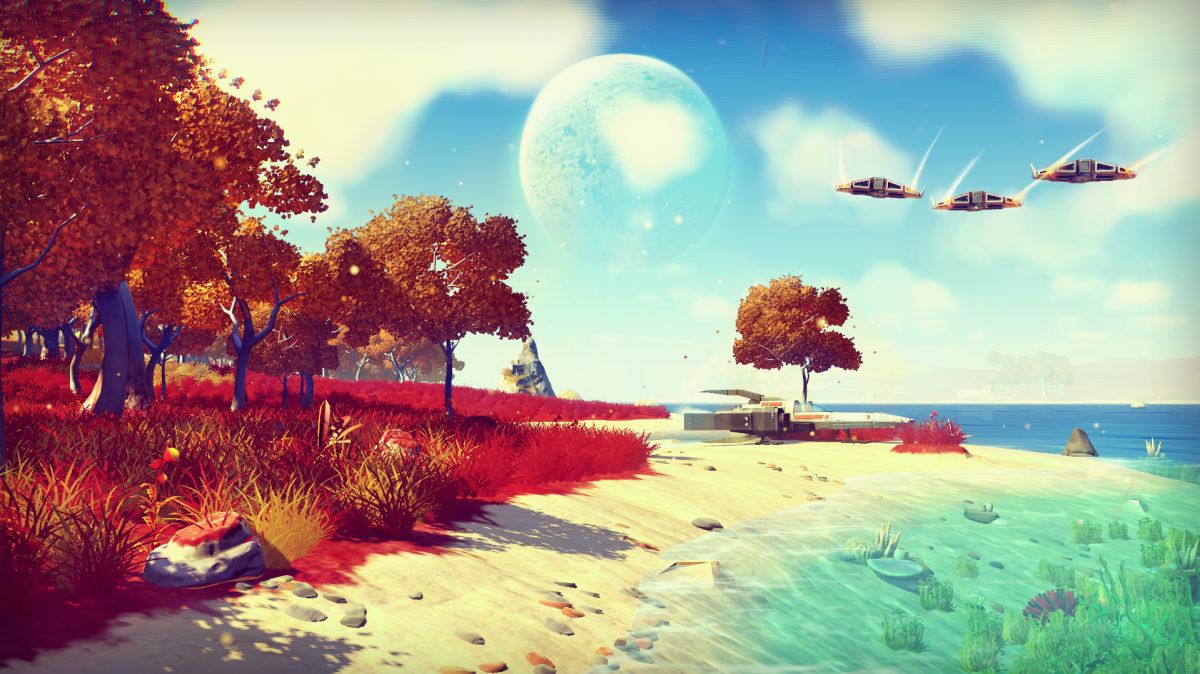 When all is said and done NMS is the only new game released this year. People have already started making lists of games that you should try out if you did not like NMS. Hype aside all these lists are bullshit.
If someone came up to me and said "Street Fighter's story sucks here is a game called Mass Effect which totally does it better and has some fighting in it too!". I would laugh in her face. "What nonsense talk!?". These games are not even in the same genre! You want to compare NMS to a turn-based top down strategy game? And recommend people play it after they have experienced the wonder that is NMS? Lol. No one will ever be the same.
This type of thinking is nonsensical. NMS is not just about its story or its pointless collect-a-ton game play or its lore or post effects. No Mans Sky is the sum of its parts - it is about bringing these odd/tedious game play mechanics together in a way which has never been done before. Of course your mileage may vary but no one lives forever and no game appeals to every player. Some are gonna be left crying for multiplayer - poor lonely souls.
To die in a place that does not know your name. God knows you lonely souls
NMS has literally changed how we look at game art. It may not be obvious now but at some point in the future all games will have procedural art or procedural assets. Variety is the spice of life. No longer will we be plagued with NPC clones in every town or predictable sidequests.
Of course Mass Effect's story is better than the story in Street fighter but the people playing street fighter are not totally invested in the story - they would "like" to have story - but in the end all they want to do is throw fire balls and dragon punchs all day long! Sitting down and making dialog choices is not what fighting games are about.
Another person said that Uncharted 4 should be game of the year but seriously its the 4th game in a series of almost identical games. If I were to choose one I would say the collecter's editions are a better game than any one title in the series. Each game has been done, updated and redone - it is time we can try something new now.
What NMS brings to the table is a new take on the old rinse and repeat games that have been released over the years - the constant polishing and up-rez-ing of tired genres of open-world games with skill trees that have been stale since Grand Theft Auto: Sandreas. NMS sky is a big experiment in bridging the gap between hardcore space sims and reading sci-fi novels. It brings enough dumb stuff together and bakes a little pie that might not full your belly but you certainly will remember eating it.
And thats why NMS should be game of the year - It is the sum of these little dumb things that makes it great.
A new final fantasy might be released soon and we all know what it is going to be, we all know that its going to be an RPG with healing potions and pheonix downs. Nothing is a suprise anymore. We will look at the gaint monsters like we were seeing Shadow of the Collossi for the first time and be in awe of its 30fps glowry. A new Call of duty is going to drop and its probably going to have better space combat than NMS and even better gun play and online multiplayer but who cares? Team death match - capture the flag. Its all the same stuff with more polygons. Give us new stuff. Sci-book covers!
permanent link. Find similar posts in Video Games.