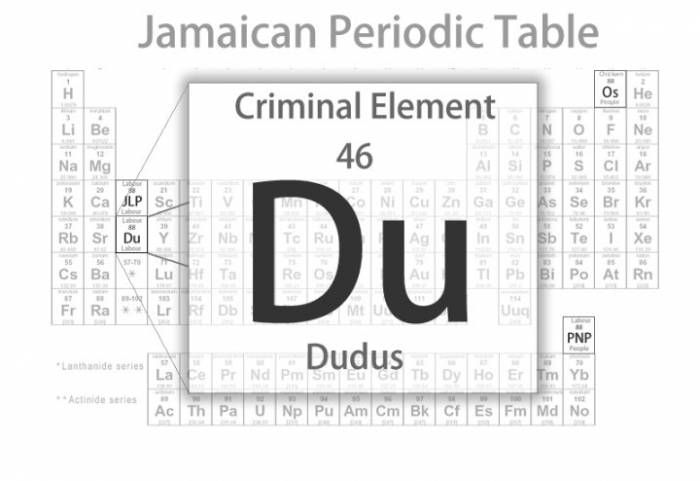 I was listening to Mutty on the radio this morning. He is saying that this is the price we have to pay. Its not looking good for Jamaica at all. At some point we have to forget about tourism and worry about what really matters: the people of Jamaica.
The jokes are building up as fast as the rumors and the death count. The people who live outside of the danger zone have nothing to do but pray and coin new jokes about the situation that few of us have lived to experience. PEOPLE ARE THROWING STONES IN THE DAMN GLASS HOUSE.
The latest slogan I heard; Osama-Bin-Dudus. LOL, I myself take serious thing make joke but what else is there to do? The whole Tivoli Gardens thing is turning into a Bush-Sadman-WMD tragedy; 77 killed and 6 guns found? Something is definitely wrong with those number. I can't even link to all the news and rumors that is coming out, it is just too much and changing too rapid.
The whole thing also has a splash of Hitler in it IMHO, especially since people keep talking about "bombing" Tivoli aka genocide. Clearly these have never been to the community and are warm at home with their microwave ovens and FB. Tivoli itself is quiet a big place. Not to mention the concentration camp that is housing 500+ adult and young males at the National stadium which as being "processed". I can't remember the last time I was processed and I doubt I would like it very much.
Lets not talk about FB and twitter because everybody is either quoting somebody or spreading hearsay.
Others about mass graves in May Pen Cemetery and dead bodies being burnt/dumped. Mothers and daughter who may never be able to collect the bodies of relatives. I am not sure how long it takes a body to start decomposing but it seems to be hasty.
There is just too much news, pictures and rumors. Too many parallels to draw. Your opinion is as good as mine cause i'm not going down there to see for my self.
permanent link. Find similar posts in Blog Jamaica.